Running in Orlando my interactions with wild life were infrequent at best and limited to gecko's, bums, swans and the ducks around Lake Eola.

(Oh and one time, an iguana.

Random!)

Since moving to Michigan it's been a wild life free for all; I've had brushes with Jeri's infamous Black Squirrels, rabbits, deer, ill/under dressed running collegiates and most frequently geese. Canadian Geese to be exact and they're angry little b@stards!

One of my local routes takes me by two ponds that seem to be a gander hot spot and recently while running along, minding my own business, attempting to dodge all the goose poop

(it's EVERYWHERE!)

I had an altercation with an arrogant goose. He started huffing, puffing and... hissing.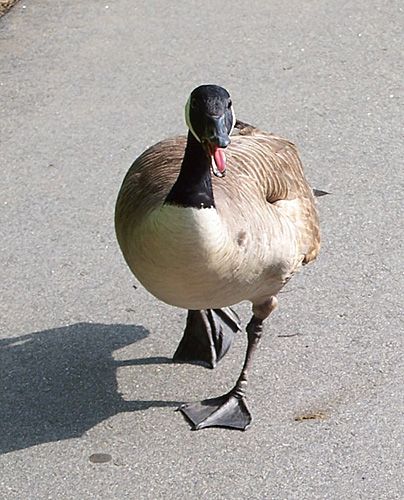 I'd like to tell you I hissed right back and showed him who was boss but I have a profound fear of fowl

(traumatic rooster attack as a child on the farm)

so instead I jumped from the sidewalk onto the road and almost got creamed by a Fedex Truck. D@mn Goose.

Speaking of almost getting creamed, that was the second time that week! Last wednesday as I headed out for a 6 miler I was using a crosswalk, the light clearly signaling me across, when a car in the right lane pulls up, driver looking left to see if he can turn right and does a rolling stop, but never stopping. If I hadn't been paying attention to him I would've ended up being 10 pts. As it was, he never saw me. Not even when I yelled at him as I ran forward and across his path, to get out of his way, and not even when I smacked his car with my hand. Needless to say it was a pretty scary moment and only validated my fear of crosswalks.

Take this as a friendly reminder, make sure you're vigilant out there; whether it be wildlife or moving vehicles make sure you are aware of your surroundings and running on your guard. Run safe and always wear your Road Id.



Wildlife Encounter Tip from Spike:

If a deadly goose threatens attack, raise your arms, yell and run towards it. Do NOT scream like a girl and run away. (Like I did.) What's the most random thing that's ever scared the crap out of you while out running???