Happy 2010!!! I hope wonderful New Year's weekends were had by all and once I get a chance, I promise I will make the rounds! We're back from Chattanooga and I know ya'll have been sitting around just waiting to hear all about it! (Right?!?!)
N.Y.E.


NYE morning I embarked on my 7 hour drive north to Chattanooga to meet up with Spike. (If you don't know the story behind this trip go here.) The drive up was fairly entertaining with lots of random sightings and time passed by rather quickly thanks to my audio book and never ending phone chats with friends. I arrived earlier than expected and anxiously awaited Spike's arrival. Men, always late. He FINALLY arrived a good hour or so later and after catching up on our respective trips, hugs, kisses and such we got ready for dinner. At the concierge's suggestion we hit up blue water grille in downtown Chattanooga.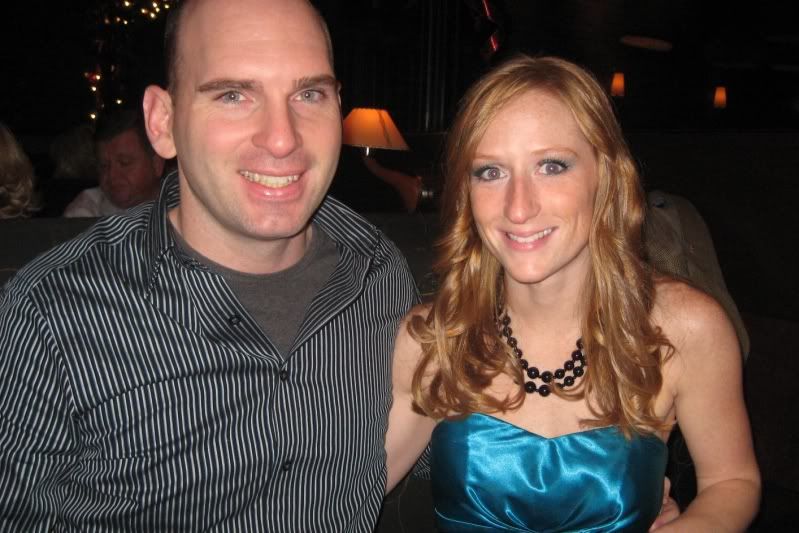 Our server was so cute and chatted us up about our "story" (she's in a long distance relationship herself) and gave us some suggestions for after dinner. After the most amazing dessert ever we strolled over to the Walnut Street Bridge as suggested to take in a breathtaking view of the city all lit up for the holidays and got lost in the magic of the city, the moment and each other. *le sigh*
The moment passed quickly enough because it was effing COLD and I was wearing a dress. OMG I have forgotten how brutally cold 20* feels!!! We decided then and there that rather than roaming around trying to find a place to ring in the new year we'd just head back to our warm hotel and watch the ball drop on TV. It was perfect.
New Year's Day
New Year's Day we got to enjoy a rare morning of sleeping in, late breakfast and an empty schedule; it was glorious! After we carb-loaded up at breakfast we headed over to the Tennessee Aquarium for a few hours. (This is a definite must see if you're ever in the city! Easily one of the best aquarium's I've ever gone to.) After more carb-loading at lunch we hit up Sherlock Holmes at the theatre (it was entertaining but not nearly as exciting as I thought it would be), finished up over at the aquarium, strolled around the city a little and finally headed back to the hotel to rest up for our long run in the morning. It should be noted that seeing as how it was Friday, Spike made sure to ring in the New Year right; Taco Bell Friday - CHECK! I opted out. TB is not a pre-long run dinner in my book.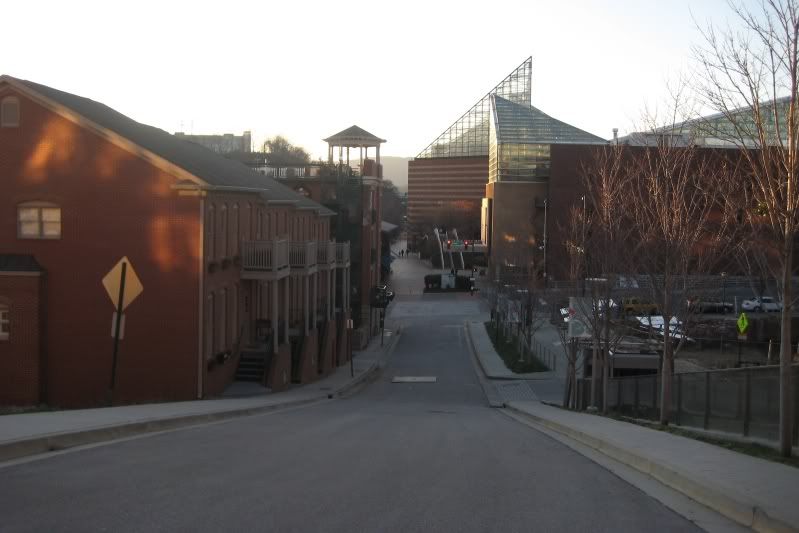 Every road leading off the main downtown drag were HUGE up-hills. This pic doesn't even do it justice! Being runner nerds you know we had to test one out! This is looking down towards the aquarium.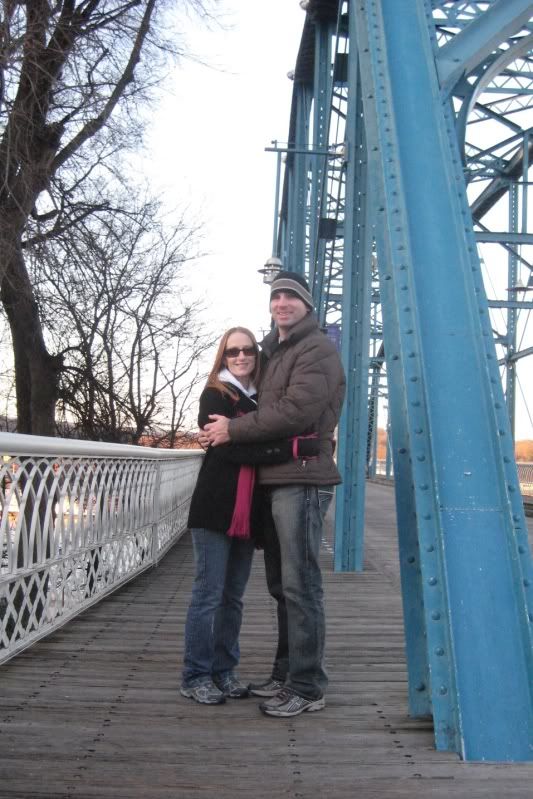 Walnut Street Bridge
Saturday
Bright and early Saturday morning we headed over to the North Chickamauga Creek Greenway for our long run; it was 20* and snow flurries. FML! Thank goodness Spike had gotten me a super soft and WARM running pullover for Christmas because the long sleeve tech tee I had brought was def not going to cut it! On the drive over we realized we were traveling up towards the mountains and started to get a little nervous. (If you actually clicked the link for the trail you will notice it doesn't really mention anything about terrain...) We swung into a gas station so I could pee, go figure, and asked the attendant if she knew anything about the trail. The look on her face was priceless. You would have thought we had asked some insanely complex mathematical question. She stared at us so long with this crazy look that we finally added "it's a running/biking trail." With that she finally answered, in her super southern accent, that she never heard of it. With a nervous glance to one another we headed back out to our directions and eventually arrived.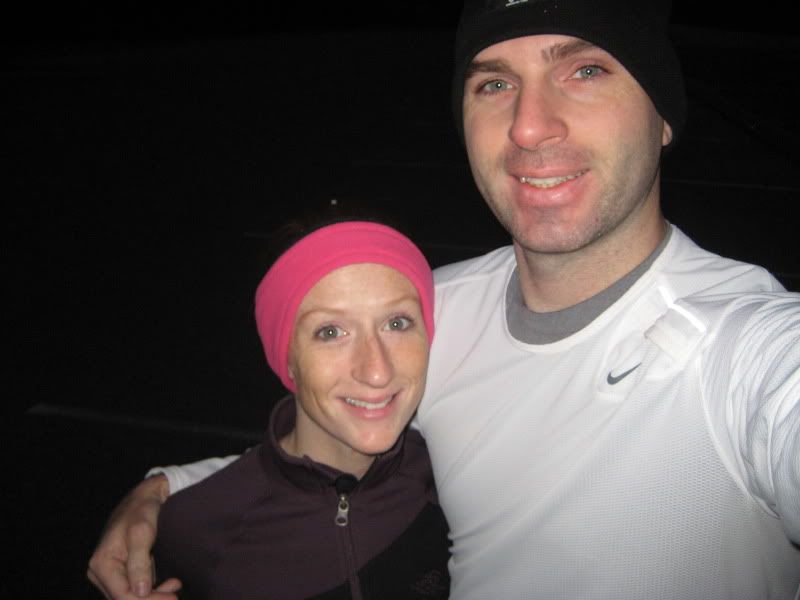 I had 16 M on deck and the trail info stated it was an 8 M trail. Out and back = 16 M. Easy enough. With flurries swirling all around us and the temp far below any I've ever ran in we headed onto the gravel path. It was scenic for sure and after a grassy stretch we turned in to a more forest like path... and then started ascending up. And up. And UP. My legs were screaming, my lungs were burning and we had only gone a little more than a mile. I was starting to get really scared. I run hill repeats on Monday nights sure, but I wasn't prepared to run up a friggin' mountain!!! We finally plateaued alongside a cliff for a few minutes but soon found ourselves descending at an extreme angle. I prayed to god I wouldn't fall and tumble down and I thought to myself, I hope we don't have to run back up that!!! At the bottom I dubbed it the "Hill of Death" and the trail thankfully turned a bit more manageable. We started enjoying ourselves again... until we dead ended into some construction marking the end of the trail. We had barely gone over 2 miles. Quick mental math informs us that to head back would only give us around 4 miles total... Sh*t. What happened to an 8 mile linear trail?!?!? FOL. (F*ck Our Lives)
We headed back and took the path veering left in hopes of finding added mileage but quickly met back up with the original trail, only too soon facing the bottom of the "Hill of Death." Going down this MUTHA was torture so you can only begin to imagine what we faced going UP. I couldn't tell you the degree of the hill but it felt like straight up. Spike instructed me how to adjust my form which helped me push up the hill and dig deep. Grueling, torturous minutes later we finally crested and I thought my legs would promptly catapult me over the cliff for putting them through that. Poor Spike, as if hearing me b*tch about the cold wasn't bad enough, then he had to witness that mess!!! Thankfully for me, I realized I wasn't a total wuss because it had clearly kicked his butt as well!

After we made it back to the trail head we noticed it continued in the opposite direction and we ran on hopeful it would bring us the promised 8 miles... it dead ended into the creek a half a mile later. After rounding back to the car we had only managed to rack up 5+ miles. FOL. After a quick regroup we decided we'd attempt another repeat. 10 miles is better than 5 miles and there was no way we'd be able to tackle a third repeat with those killer hills. So thus 16 M became 10 M.

The second repeat was better only because we knew what to expect and where we were going but it didn't make those hills any easier or that "Hill of Death" any less dreadful. At points during the loop I thought I might be able to make it thru another repeat for 15 M but after the "Hill of Death" and rounding out to the car I knew it'd be a big mistake. We were frozen to the bone, our legs were shot and if we had any hopes of enjoying the rest of the day around the city we would need to play it smart. I checked out the Garmin stats and despite everything we managed a 9:22 mile pace overall with level running around an 8ish mile pace but falling apart on the hills. With the 10+ miles logged we bundled up at the car and headed back for breakfast, warmth and a nap.
After a quick nap, we trekked over to the world famous Rock City, and had a hilarious time goofing around the trails and rock formations as well as chatting up the other tourists while taking in the beautiful scenery...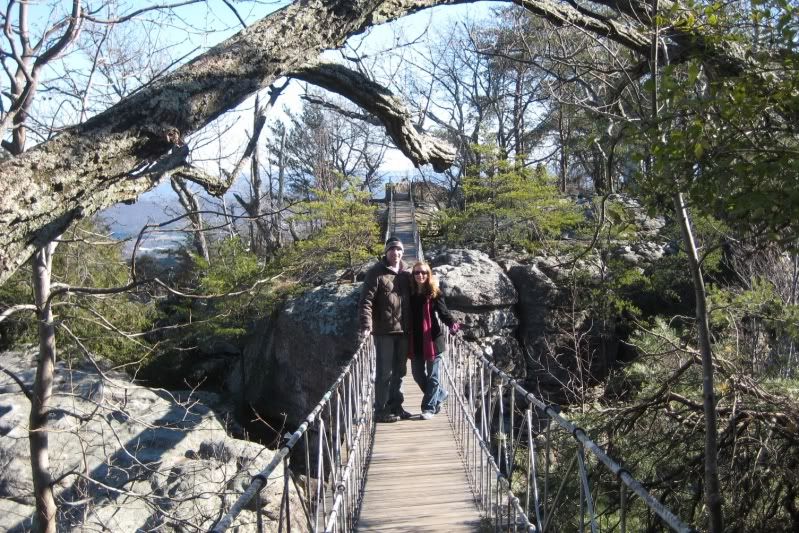 Heading over to Lover's Leap; after this picturesque shot he started bouncing up and down much to the horror of the screaming child who's family were trying to drag her across...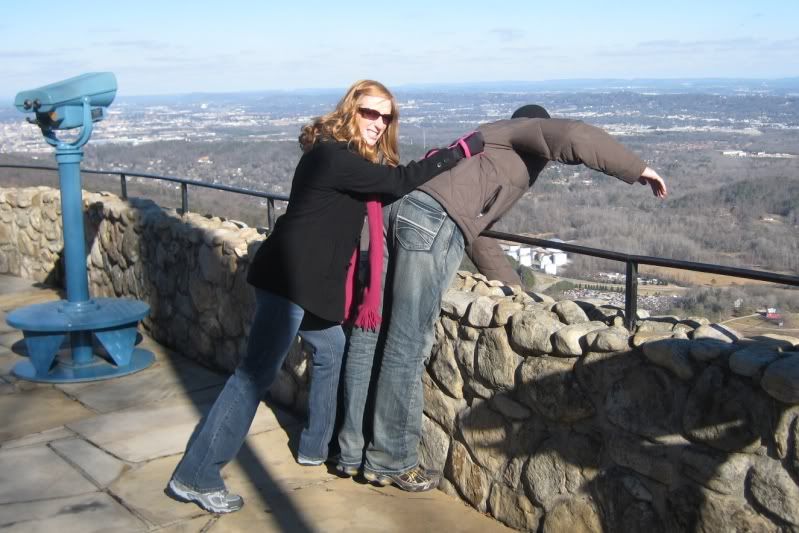 I warned him not to act up...


After Rock City we headed back down to Chattanooga and went exploring. We strolled the city for hours, discovering all sorts of fun little places; an indoor carousel, "Adventure Hills" where we conducted races to the top like 5 year old's, sculptures, history trails from civil war time and cozy book stores. We def worked up an appetite and settled on Sekisui Sushi for dinner. It did not disappoint. After dinner we hit up the local Starbucks and curled up together to enjoy some quiet time and read. It was the perfect end to a perfect weekend.

Sunday
After breakfast we parted ways with a bittersweet "See you Friday." Although it was sad to say goodbye, this time at least, it's only for a few days... he comes back to O-town Friday to spend the weekend as we spectate blog friends and his cousin run the Disney Marathon.
After a grueling 9+ hour drive (I hate rubber-neckers!!!) I finally arrived back to reality around 8pm last night. I wish we could do it all over again... I heart Chattanooga!



P.S. In case you were wondering, although Spike did gift me the book "Pride & Prejudice & Zombie's" there were no Zombie encounters while in Chattanooga.